In recent years, India has become, on its own merits, one of the most promising countries in terms of fashion , and we are not referring only to the fidelity that some of the most famous designers and brands of the fabrics and colors profess sector -as is the case of the famous Christian Louboutin -.
New Delhi , its capital, and Mumbai , the most populous and richest city in the country, are already epicenters of trends and headquarters of the most prestigious workshops and design studios in this area of ​​Asia. In fact, many of its designers have managed to make the leap beyond their borders, showing their proposals in European or American countries, as well as on prestigious international gateways . If we add to this the fact that the country continues to rise in terms of development and economic improvements, everything seems to predict that the Indian fashion boom will continue to give much to talk about. Take note of some of their most prominent names:
Manish Arora
In India he is known as his private John Galliano. This creative designer is generally committed to psychedelic prints with certain kitsch touches, capable of transporting the viewer to that decade of the sixties in which there was still much to show and create in the world of fashion. Pure adrenaline on the catwalks, Arora is able to mix with success traditional trends of the culture of his country, such as the iconic saris and kurtis, with silhouettes and current garments, designed for an urban woman who does not forget her roots. Manish Arora, who worked as creative director for the Paco Rabanne house on his return to the world of fashion and exhibited his work at the Royal Palace in Paris, launched his first brand in 1997, which he followed – four years later – Fish Fry, a more sport line created in association with the sports firm Reebok. If you visit New Delhi or Mumbai, do not forget to visit their brand new flagship stores.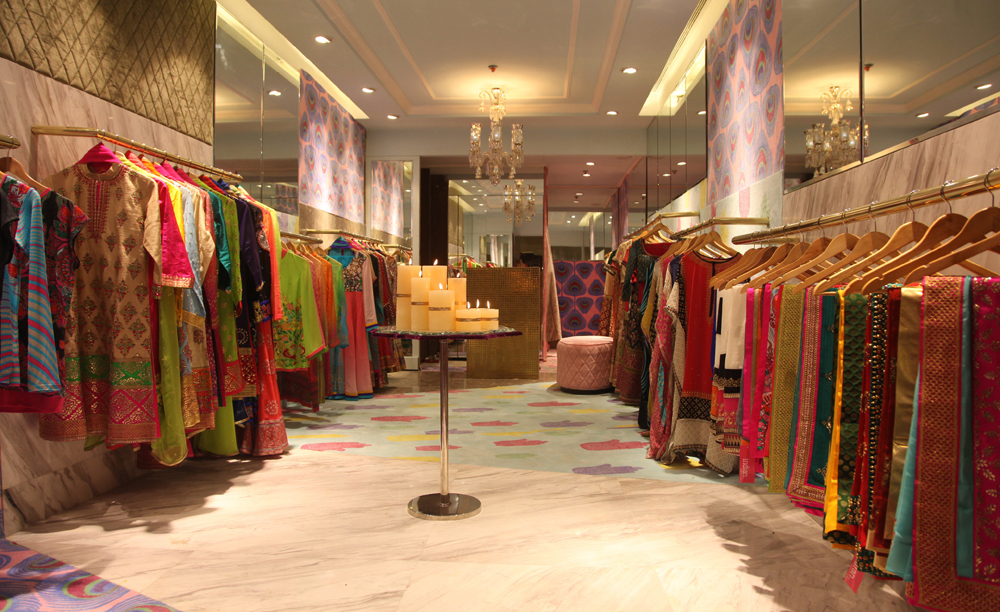 Ritu Kumar
She is one of the most famous designers in the country, responsible for much of the costumes worn by Indian models in international competitions. Its success lies in its amazing ability to make each design an unrepeatable garment, full of details that make it unique. Again, tradition and modernity are allied with Tino, offering Indian women new ways of wearing and combining clothes and silhouettes from yesterday and today. Ritu Kumar has, after its main brand that bears his name, with a second firm called Label, of equal quality but more daring, contemporary and accessible.
Suneet Varma
If something defines this designer is his ability to associate with the most relevant firms and designers of the national and international scene, both in the world of fashion and other prominent sectors, such as the automotive industry. Thanks to his intense collaboration with the Indian film industry, popularly known as Bollywood, Suneet Varma forged a prominent name in his country and outside it, although previously he had already worked internally for important houses such as Yves Saint Laurent. His designs are characterized by their sophistication and elegance, giving women an exquisite femininity.
Manish Malhotra
To talk about this designer in India is to talk about Bollywood, about the magic of his costumes and the freshness of his musicals, since he is credited with the revolution of the aesthetics of these films in terms of fashion, contributing with his Designs a plus to each scene. His name jumped into the international arena when at the end of the nineties he designed for Michael Jackson the ensemble he wore during the Bollywood Awards held in New York. The Malhotra collections are pure glamor and color, one statement of intent after another, which has made this designer one of the most influential in the country.
Masaba Gupta
His youth has not prevented Masaba, the daughter of a well-known Indian actress, from positioning herself in a few years at the top of her country's fashion universe. Her designs flood the pages of the most prestigious magazines in India and the it girls and celebrities bet on her and her impressive saris on the red carpets, causing the creations of the stores to run out in a few days. With only 19 years, Masaba Gupta presented her first collection about Lakme Fashion Week in Mumbai, becoming the youngest designer in the country to do so. Since then he has not stopped working, betting on vibrant tones and fresh and fluid lines in his collections.