Located in the Kasargod district, north of the state of Kerala , Bekal is a magnificent resort surrounded by coconut palms, a heavenly beach and a step away from the famous backwaters . It is a haven of peace, a perfect place to rest and abandon the senses, the passage of time and good company.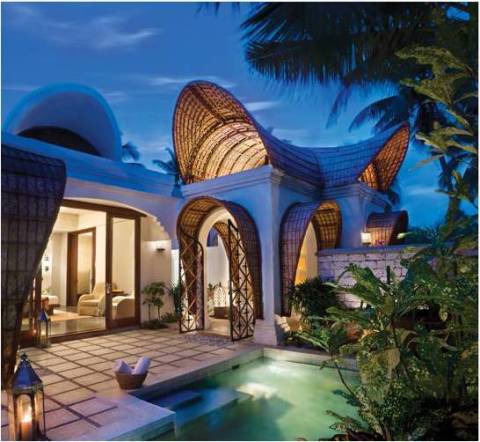 Managed by the Vivanta by Taj label , synonymous with hospitality and good taste, Bekal is not located in an area of ​​passage for the usual circuits, but that is precisely its charm.
See bigger map
The architecture is based on the famous houseboats typical of the region, those traditional fishing boats that usually delight tourists visiting Kerala.

The rooms have patio-terrace and in some cases with private outdoor pool. The decoration, with bronze candlesticks, coffered ceilings and bamboo lattices, also entails a landscape commitment and respect for the local culture.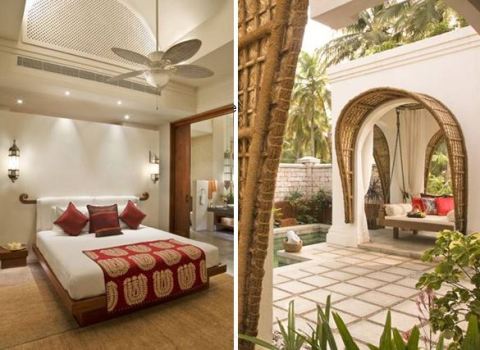 And you could not miss the Jiva Spa with its traditional Ayurvedic treatments , assisted by professional therapists and located in a wonderful tropical landscaped environment, around massage rooms, yoga rooms, very careful swimming pools, fitness room …

Bekal is a good place to explore the most unknown and virgin Kerala, that of the mysterious north coast Malabar, those lands that the explorers traveled at a compass and absorbed by the countless wonders they were discovering. Those remote places, home to elephants and wild beaches of white sand and crystal clear water. Bekal beach itself, Kappil beach, Kanwartheertha beach or Azhithala beach are some of them, all nearby and highly recommended.

Discreetly away from the rest of the facilities, so as not to cloud a good holiday, Bekal is prepared as a place for conventions , events and company meetings, with meeting rooms, auditorium, business center and all the necessary technological equipment.

And for the more active there is also place for the discovery of ruins and temples (mosques, Hindu or Jain temples ) and ashrams or spiritual retreat centers. And of course also to explore, walk and discover on foot through various routes. Do not hesitate to ask us these options, although you can always count on the kind attention of the hotel itself, which also has kayaks, bicycles and other proposals to escape from the sunbed or simply combine it with some movement.