Often when you talk about India you think of its chaotic, poorly traced cities, with its crowded streets, bustling, noisy, ramshackle, congested, pestilent, full of curly lanes almost forming labyrinths, uncomfortable and full of pollution. Chandigarh is the exception.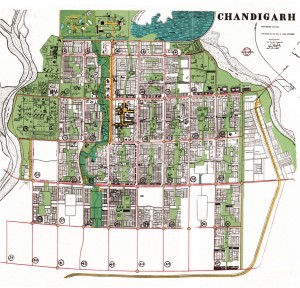 But it is not true. Being this country almost a continent – a large federation subdivided into twenty-eight states, six Territories of the Union and a Territory of the National Capital – we find exceptional cities, and within them there is the exceptional city with a capital letter for being: captivating, orderly, clean , fluid and functional.
This EXCEPTIONAL city has the name of Chandigarh , in honor of the deity Chandi. Sound, musical and beautiful name, as well as the evocation of this functional city once you have visited it. It is one of the six territories of the Union with 114 km². This well-planned territory was created after the partition of India in 1947 to create a capital in East Punjab and was commissioned by the then Prime Minister Jawaharlal Nehru to the Swiss-French architect Le Corbusier.
Chandigarh, the functional city of India, clean and quiet, where to live, work, circulate and enjoy in harmony, is located about 240 kms north of New Delhi and meets the requirements of any western city covering all kinds of concerns: philosophical, artistic, cultural, economic, industrial and university. They constitute the city, 56 sectors, each sector is independent of the rest and form a mini city itself. Being sector 17 the heart of the city and in it, you can find concentrated leisure, commerce and banking areas.
What to visit in this functional city of India, apart from strolling through its wide streets, without noise or bustle, in a clean environment?
Among the many tourist attractions in Chandigarh the most prominent are:
The Capitol Complex . This monument was designed by Le Corbusier, and houses the Civil Secretariat, Assembly Hall and the Superior Court of Punjab and Haryana. From the Capitol Complex you will have the breathtaking views of these huge concrete structures, surrounded by ponds and green areas. Here you will see the ` Open Hand ´; a structure 26 meters high, which resembles an open palm. It represents peace and unity with the message 'Opening to give, open to receive'.
The Rose Garden or Zakir Hussain Rose Garden . It consists of almost 40 hectares of land with more than 1,600 different species of roses. Every year, between the end of February and the beginning of March, a great festival known as Festival de la Rosa is celebrated in its center. You will enjoy in this garden the tranquility of walking among the most beautiful species of roses and some indigenous medicinal plants and trees of India.
The Sukhna Lake . This lake was devised by Le Corbusier, with the idea of ​​creating a natural space that would cause enlightenment through the contemplation of nature. It consists of an artificial lake created in 1958 from the Sukhna Choe dam, a stream that descends from the hills. It is a perfect place to relax, take beautiful pictures and see a variety of fish and birds. You can recreate on the lake with water sports: how to go canoeing, sailing and water skiing. This is the favorite place to picnic in the city of Chandigarh.
The Rock Garden . It consists of a garden, of about 40 hectares visually attractive. It was built in 1957 by Nek Chand Saini and opened in 1976. In this Garden you will admire beautiful sculptures formed with recycled ceramics, old bottles, pieces of colorful Indian glass bracelets and waste electrical appliances, along with beautiful streams and waterfalls All this represents a kingdom lost in time and an absolute delight for the senses in Chandigarh.
Live, work, circulate or enjoy in Chandigarh, anyway, you win!