Delhi has some of the most famous temples in modern India, known not only for their religious importance but also for their experimental designs that defy conventional architectural standards. Do you want to know what to see in Delhi?
Delhi: unique temples and monuments in the Indian capital
Red Fort:  The red sandstone walls of the Red Fort massif (Lal Qila) recall the power of the Mughal emperors. The walls, built in 1638, for protection against invaders, now protect the city. The main gate, Lahora Gate , attracts everyone every Independence Day .
Qutab Minar: A high 73 m tower built in 1193 by Qutab-ub-din Aibak after the defeat of the ancient Hindu kingdom of Delhi . It has five different floors, each marked by a projection balcony. Its diameter is 14.3 meters, while its highest point reaches 2.7 meters.
Parliament House: Parliament is a circular building surrounded by columns. In addition to the two chambers of the legislative branch, it also houses ministerial offices, rooms for commissions and a library. It was built following the layout of a gallery supported by 144 columns.
Jama Masjid: This great mosque is the largest in India, with a courtyard capable of welcoming 25,000 devotees. Its construction was begun in 1644 under the order of Sah Jahan , the Mughal emperor who also built the Taj Mahal and the Red Fort . The mosque has three large doors, four towers and two minarets of 40 m built in red sandstone and white marble. A must to visit during a trip to India .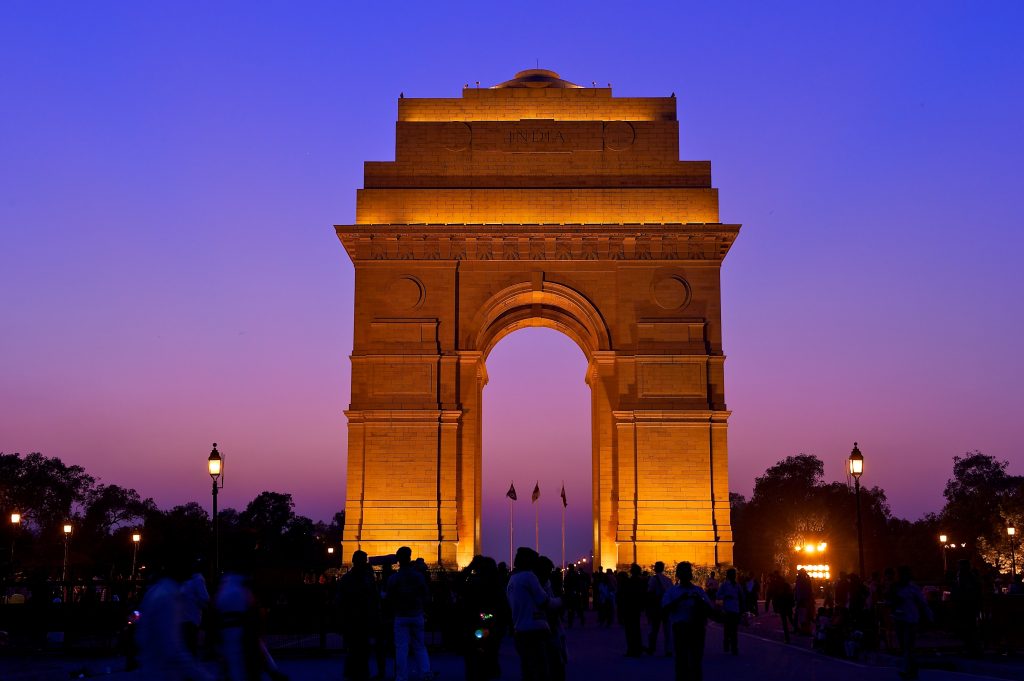 India Gate:  The  India Gate  is located in central New Delhi . A "Arc de Triomphe" of 42 m similar to its French counterpart and marked by the names of more than 13,516 British and Indian soldiers killed on the northwest border in the Afghan war of 1919. The initial stone of the Gate of India was placed by the Duke of Connaught in 1921 and designed by Edwin Lutyens.