A trip to India is always a discovery.
A discovery from sensations, smells, sounds and of course, also through the approach to the Culture and History of India. History with capital letters, which serves to understand the trajectory of a civilization and to understand the present of a people.
Almost always, on our return, the endless data provided by the travel guides or our guide, accumulate in our nostalgic memory and become a hodgepodge in which majarahás, battles, traditions, religious beliefs and artistic styles are mixed without sense.
But … What if we start references to Western history and culture in which we can navigate without losing our way?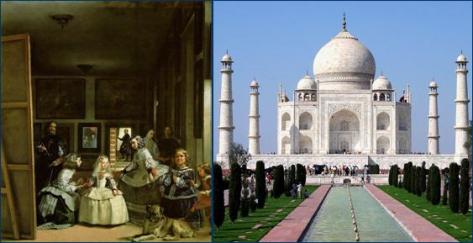 Because, for example …
… while the first known Indian civilization was developing, the Harappa civilization (today Pakistan), the Egyptian domination of Israel took place and the Cycladic civilization took off in Greece, genesis of the later Western culture …
… while building the first great Indian empire, Alexander the Great led his troops to the conquest of the East. Troops that would be arrested, precisely by Chandragupta, the initiator of the Maurya dynasty …
… while Islamic funeral architecture reached its peak in the construction of the Taj Mahal, Velázquez culminated Baroque aesthetics with Las Meninas …
… The same year in which the discontent for colonial domination crystallized in India in 1857 in the Revolt of the Cipayos, in Spain the Moyano Law was passed, during the turbulent reign of Isabel II who was trying to settle the Liberal State. And in France, Flauvert wrote Madame Bovary, a description of the bourgeoisie, the new ruling class in the new Europe of the Industrial Revolution …
… when Europe that broke into pieces with the outbreak of World War I, Gandhi traveled from South Africa to his native India to lead an independence movement that would mark the future of the Indian people …
Therefore, we propose a tour of the History of India. A tour that we will make in deliveries in successive articles of this blog, based on Western cultural and chronological references in order to make the History of India closer to us.
Follow us on this journey through time!