A visit to Akshardham , in New Delhi, properly guided, is usually very convenient one to begin in the characteristics of Hinduism and Indian history and culture. But it is also an ideal place to take a walk, enjoy a beautiful garden setting and exquisite architecture and sculpture.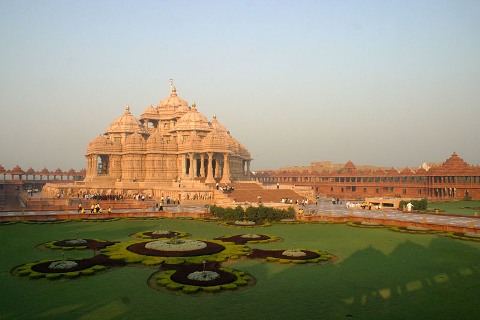 Unlike other temples, historical or relics of earlier times, the Akshardham complex is of recent construction. It was inaugurated in 2005, after 40 years of works and planning and thanks to the financial contribution of thousands of donors.
In its creation, no less than 7,000 artisans from all over India participated, plus 4,000 army volunteers and spiritual centers.
Since then, it has become an almost obligatory visit in Delhi. It is estimated that 7 out of 10 tourists who visit the city visit it. And this, taking into account national tourism, is about 10,000 people a day. It is recognized as the largest Hindu temple in the world.
The central monument, known as "Mandir", is built with Rajasthani pink stone (symbol of purity and peace) and marble brought expressly from the quarries of Carrara (Italy). Not one concrete pillar was used to lift it, there are no metals in its structure. Only gold, in decoration. It is sculpted with 20,000 figures and floral motifs, animals, Hindu deities, etc. Tell the story of India and Saint Swaminarayan .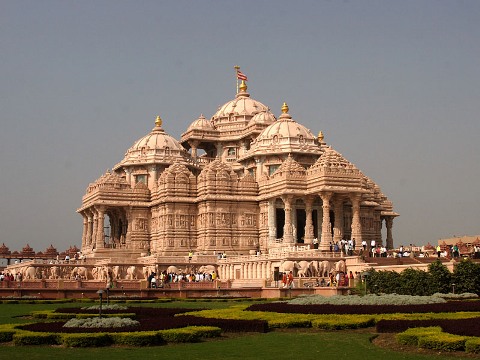 The complex also has an exhibition hall, a giant IMAX cinema screen, a beautiful fountain prepared for light and sound shows, an artificial river to do with boat tours and delicious garden areas. The Yogi Hraday Kamal garden, for example, with its lotus flower shape and sculpted quotes from Shakespeare to Luther King.
There are different facilities to know the Hindu religion, art or history of this great country.
Akshardham means 'the divine and eternal abode of the supreme God', that is, the abode of purity, peace and all virtues.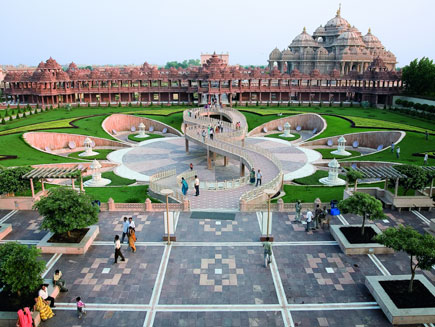 The entrance to the temple, until today, is free, except for the attendance to concrete shows. Like many other major monuments in India, it closes on Mondays. To enter, as in any Hindu temple, it is mandatory to cover shoulders and legs.
The Akshardham temple has been included in fifth place in the list of 'The Seven Wonders of the 21st Century' elaborated by the prestigious Reader's Digest.